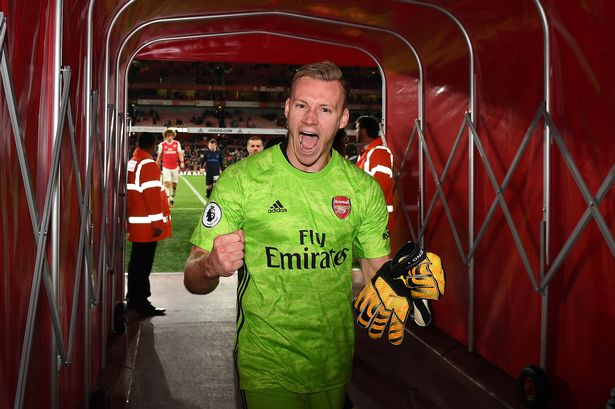 I took time out to rave about our club's leading goalscorer yesterday, and I don't think there's any doubt about the fact that Auba is the best striker in the League. However, there's another guy that perhaps doesn't get the amount of praise he deserves, and that's our German Goalkeeper Bernd Leno.
Leno came t Arsenal in one of our worst periods in history, particularly at defence and has had to face the brunt of the effect. He started off playing second fiddle to Peter Cech in his first full season and after about half of the season, went on to oust Cech and has retained his place ever since.
In terms of consistency, Leno has regularly proved that he is very dependable and considering how young he is, I suspect there's more to come.
When he decided on moving to a big club like Arsenal, I doubt he expected to be as busy as he's been, but such is the state of our defence in recent times. The tail end of last season saw us shipping in goals in droves, and the primary "beneficiary" of that was Leno, who watched helplessly as his defenders let him down.
If last season was a baptism of fire, then this season has literally been hell for Bernd Leno. Once again, the numbers tell a story, and it's a sad one because Leno has been the second busiest goalkeeper in the League. Leno has been the second busiest goalkeeper in the land, accruing 98 saves and finds himself in the company of goalkeepers of teams battling at the wrong end of the table.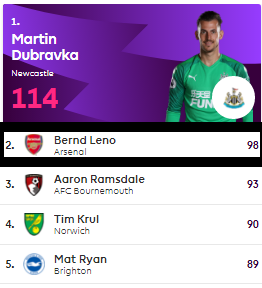 Football is unfair at times to defensive players because as fans, we like to know we have good defenders and goalkeeper. Still, I'd generally be happier if they 're untroubled for most parts of our games. Thankfully, Leno has mostly produced the goods and stayed focused more often than not.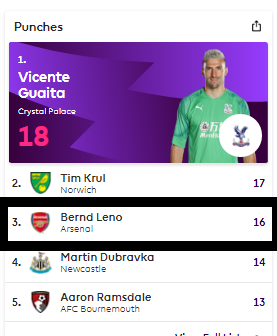 not in good company
Just like Mustafi alluded to in one of his whiny interviews, players in defence are only talked about when they make mistakes but hardly get praise when they actually do their jobs. So I'm taking out time to appreciate Leno for all the saves he's made this season because, without them, we would be a lot worse. SO here's a compilation of some insane saves by Leno
I hope you enjoyed the video and until we meet again, up the Arsenal.